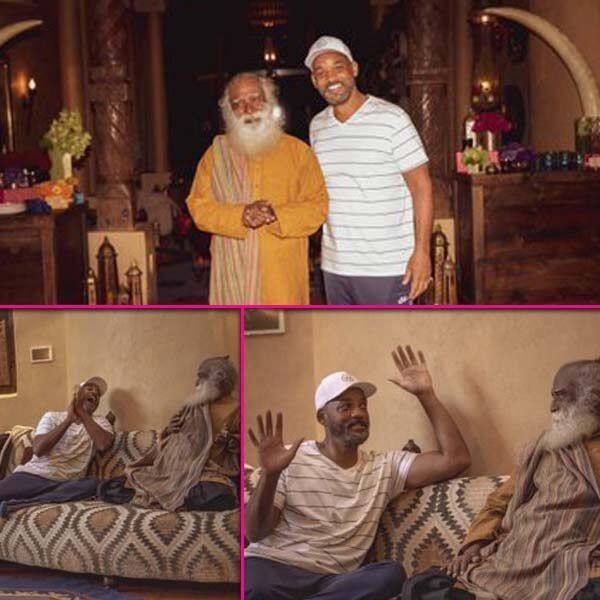 Actor Will Smith, who also won the hearts of crores of Indians from the Hollywood films 'Man in Black', 'Bad Boys' and 'Aladdin', has recently met Sadhaguru, founder and religious leader of Isha Foundation. Sadguru himself has given this information through his official Twitter handle. He wrote, 'Will, it was great spending time with you and your family. I hope that religion will always guide you. Along with this, Sadhguru has posted some of his pictures with actor Will Smith. In these photos, actor Will Smith is seen listening attentively to Sadguru. At the same time, there are also intense interactions between the two. If we look at Sadguru's tweet, it is known that not only actor Will Smith but his family also met Sadguru. The meeting between Will Smith and Sadguru has become a topic of discussion on social media at this time. You can see these pictures of Sadguru with Will Smith below.
Will, it was a pleasure to spend some time with you and your wonderful family. May your Sangha be strong and Dharma be your guide. -Sg #WillSmith pic.twitter.com/vaRMhbH1HU

– Sadhguru (@SadhguruJV) October 16, 2020
Will Smith is influenced by Indian culture
Hollywood actor Will Smith may be American but he is very attracted to India. He has often been talking about his tendency towards India. Not only this, on their social media accounts also you will find many such pictures and videos which are associated with Indian culture. Even before this, Will Smith had participated in the Ganga Aarti to be held in Haridwar during the tour of India. Its discussions were also very loud. Will Smith himself posted these photos on his social media handle. After which the fans started becoming crazy about him. This is the reason why there is a large number of people who are interested in Will Smith's inclination towards Indian culture.
Also want to work in bollywood
However, the actor has not yet got such an opportunity. But he has expressed his desire to work in Indian films too. Will Smith revealed this in an interview that he is interested in working in a Bollywood film. Let me tell you that Will Smith's Hollywood film Aladdin was also famous in the country and the film received a tremendous response from the audience.